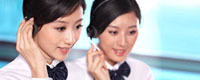 Name: Eric Chen
Tel: +86-535-8088266
Mobile: +86-18663815259
E-mail: info@starkinstrument.com
Skype: jackie.chan-chemins
QQ: 294772396




Product name : Industrial Online Residual Chlorine Analyzer

Product No. : CL-2059
Details:
Overview
CL-2059
Industrial Online
Residual Chlorine Analyzer can display residual chlorine (total chlorine, CO2), temperature. This analyzer is mainly used for measurement and chlorination control of residual chlorine, total chlorine and CO2
etc occasion
. It is widely used in such industries as water supply, drinking water, water purification, industrial pure water, swimming pool disinfection etc.


Features
1. The built-in protective software in the instrument provides various diagnoses.
2. The watchdog design effectively enhances its interference community.
3. The long-life touch screen is easy to use.
4. Manual contact control.
5. Constant-current groove based installation.
6. Simple calibration, single-point calibration in medium of certain concentration.
7. Residual chlorine, total chlorine and CO2 are integrated in a transmitter
8. Touch screen display, operation in English


Technical Parameters
| | |
| --- | --- |
| 1.Display mode: | Touch screen (LCD)display |
| 2.Electrode models | CL-2059-01 constant voltage online residual chlorine electrode |
| 3.Constant groove type | CL-2059-02 |
| 4.Measuring range: | 0-2-ppm, 0-20ppm(switched to each other) |
| 5.Accuracy: | 0.001,0.01ppm |
| 6.Operating temperature: | -40-70℃ |
| 7.Signal output: | 4~20mA isolated current output, RS232 |
| 8.Control action: | relay ON/OFF |
| 9.Dimension of the hole: | 92x92mm |
| 10.Overall dimension | 96(length)x96(width)x170(depth)mm |
| 11.Set point | 2 points |
| 12.Control container: | 250VAC/7A |
| 13.Net weight | 1.0 Kg |

Standard Configuration
CL-2059 secondary meter, a constant voltage chlorine electrode, circulation groove (3-hole), standard cable 5 meters