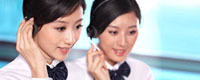 Name: Eric Chen
Tel: +86-535-8088266
Mobile: +86-18663815259
E-mail: info@starkinstrument.com
Skype: jackie.chan-chemins
QQ: 294772396




Yantai Stark Instrument Co., Ltd. is a high-technology company, which focus on the development, manufacture and sales of high technological products in the fields of water analysis, gas analysis, level meter and flow meter.

Our company is a leader in the field of analysis instrument in China and has undertaken several technical researches of the state. Many of them have reached a high level approved by the state ministry.


Credit - honest and pragmatic, credit is top priority

Faith - leading technology, in pursuit of excellence and perfection

Trust - customer first, professional service


In order to achieve our vision, our continuous efforts, beyond the self, the pursuit of excellence, creating extraordinary. Diversified product mix, the multi-level knowledge update, multi regional staff combination is thecompany persistent pursuit of study, and constantly go beyond the self, to create extraordinary efforts to fully embody the concept of value, to the company; to encourage employees to build confidence, meet the challenge, to develop a high enterprising spirit, sharp thinking, harmonious team, hard working style, full realization of self value, all of which,is to let us think more, do better for society, customers, partners!